Essential vocabulary crosswords
ESSENTIAL VOCABULARY CROSSWORDS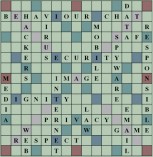 La actividad va dirigida a alumnos de últimos cursos de Primaria y Primer Ciclo de Secundaria. Consta de 5 crucigramas sobre temas básicos: family words, clothes, countries and nationalities, furniture y food and drink. Cada uno de los crucigramas incluye un enlace a una página web donde los alumnos pueden encontrar pistas o ampliar vocabulario.
Choose one of the topics below.
Click on the label to see the crossword.
Recursos

http://hotpot.uvic.ca/
http://www.thesimpsons.com/bios/bios_family_index.htm
http://en.wikipedia.org/wiki/United_Nations_member_states
http://www.sainsburys.co.uk/sol/index.jsp
La utilización como recurso de páginas web comerciales tiene fines exclusivamente educativos.

Ana M. Almarza - 30.09.10

URL del artículo: http://www.tinglado.net/?id=essential-vocabulary-crosswords

(El tinglado - http://www.tinglado.net - Con licencia de Creative Commons)